Home Safety and Security: Protecting Your Family and Property – Part 4
Home Security
Welcome back to our four-part blog series on home safety and security. Today, we'll go over ways to defend your home from burglars. Most people won't encounter a home intrusion event, but these are some measures you can take to further avoid this type of incident. 
Reinforce Doors and Windows: First Line of Defense
Your doors and windows are vulnerable entry points for burglars. Strengthening these areas is crucial for enhancing your home's security. Install solid core or metal exterior doors, as they are more resistant to forced entry. Consider upgrading to deadbolt locks with at least a one-inch throw, and use strike plates with three-inch screws for added security. Install window locks on all accessible windows, and consider reinforcing glass with security film or laminated glass. Don't forget about sliding doors and windows—install secondary locks or place a sturdy rod in the track to prevent them from being forced open. 
Install Outdoor Lighting: Illuminate Your Property
We already discussed the importance of lighting in the previous blog, but proper outdoor lighting is also a simple yet effective deterrent against burglars. Well-lit exteriors discourage intruders from approaching your home. Install motion-activated lights around entry points, pathways, and dark corners. Ensure that all entrances are well-lit, including the front porch, back door, and garage. Consider using energy-efficient LED bulbs for cost-effective and long-lasting illumination. We have some that use batteries, and thus far thankfully only alert us to rabbits in the side yard! For those that are concerned, lighting timers or smart lighting systems can give the impression that someone is home, even when you're away, further deterring potential burglars.
Security Systems: Worth the Peace of Mind
Investing in a security system can provide valuable peace of mind. A security system includes various components such as surveillance cameras, motion sensors, door and window sensors, and sometimes a central control panel. While traditional security systems may be your best line of defense, many affordable store-bought systems can also be extremely helpful. These systems are more cost-friendly than ever, and they're typically very easy to use. Ring and SimpliSafe are two popular options. 
Some security systems can offer additional benefits beyond intrusion detection and include features like fire and smoke detection, carbon monoxide monitoring, and even integration with home automation devices. These additional functionalities enhance the overall safety and convenience of your home.
One of the primary advantages of having a security system is the deterrent effect it has on potential intruders. Visible security cameras and signs indicating the presence of a security system can discourage burglars from targeting your home. Additionally, modern security systems often come with features such as remote access and real-time notifications, allowing you to monitor your home even when you are away. This capability is particularly beneficial for frequent travelers or individuals who spend significant time away from home.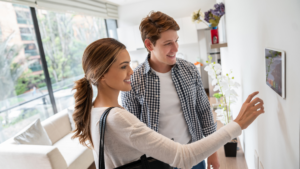 Going On Vacation: Take Extra Precautions
When you're going on vacation, it's essential to take additional precautions to protect your home. Arrange for a trusted neighbor, friend, or family member to collect your mail, packages, and newspapers, and ask them to bring in the trash from the curb. An overflowing mailbox, piled-up deliveries, or a trash can by the road for days can signal that no one is home. If you'll be gone awhile, consider asking USPS to hold your mail. Set timers for indoor lights to create the illusion that someone is present, giving the impression that your home is occupied. Avoid sharing your travel plans on social media to prevent broadcasting your absence to potential burglars. Consider installing a security system or using smart home technology that allows you to remotely monitor and control your home while you're away.
While most people will never experience the threat of a home intrusion, you can significantly reduce the risk of break-ins and protect your family and property by taking these simple steps. If your security system is never used for security, you'll still probably enjoy some of its features. Personally, my wife and I enjoy monitoring the activity of the neighborhood barn cats! 
Have Homeowners Insurance Documentation
Most homeowners do have insurance against theft, but oftentimes they fail to document their belongings to obtain reimbursement. Be sure to take photographs or video of your belongings and upload to online storage, and save receipts when you can. It is not likely that you'll need them, but if you do, you'll be glad you stayed organized.
Overall, the level of home security a family feels they need is highly subjective, but it makes sense to take some measures to protect your property from break-ins. Consider the points we've covered in this blog to see what steps might be best for your home safety concerns.
Disclaimer: The information provided in this blog post is for general guidance only and should not replace professional advice or assessment. For comprehensive home security guidance, consult with security professionals or your local law enforcement agency.
#friendlyexperiencedthorough #homeinspection #luxuryhomeinspections #newconstructioninspections
Serving Southwest Michigan from the Lakeshore to Battle Creek, Allegan, Grand Rapids, and more. Learn more at www.bakerpropertyinspections.com