NEW CONSTRUCTION WEEK
Build vs Buy A Home
For many people, moving means making a decision between searching for an existing home or planning for new construction. Let's discuss the pros and cons of new construction.
There are several good reasons why someone may choose to build a home instead of buying an existing one:
Customization: Building a home allows for complete customization to fit your specific needs and desires. You can choose everything from the layout and size of the rooms to the type of materials used for the flooring and countertops.
Energy Efficiency: Building a new home with modern construction techniques and energy-efficient materials can result in a more efficient and sustainable home. This can save you money on utility bills in the long run and be better for the environment.
Lower Maintenance Costs: A new home will typically have lower maintenance costs, but you should still SAVE 1-3% OF THE HOME'S VALUE EVERY YEAR for future maintenance. One big advantage of new construction is that you can choose materials and appliances that require less maintenance, such as low-maintenance siding or energy-efficient appliances.
Modern Amenities: While it may seem obvious, newly built home can include the latest modern amenities, such as smart home technology, home automation systems, and upgraded appliances. If you have your heart set on an ultra-modern kitchen, it could be more economical to go the custom-build route.
Location: Consider whether you want to live in a new or established neighborhood. There are many positive sides to both choices.
Building isn't right for everyone, though! There are many advantages to buying an existing home, such as: 

Cost: Generally, buying an existing home is less expensive than building a new one, particularly when you factor in the cost of land, permits, and construction materials. This can vary, of course, so it's best to do as much research as possible if you're on the fence. Architectural Digest has a quality article on this topic, find it here. 
Convenience: Building a new home can take several months, if not years, depending on the complexity of the project. If you need to move into a home quickly or have time constraints, buying an existing home may be more convenient. Of course, there are many new homes available on the market as well, but the option to make customizations will likely have passed.
Character: Older homes often have more character and charm than newer homes. They may have unique architectural features or historical significance, which can be appealing to some home buyers. I personally have a great appreciation for historic homes. I particularly enjoyed inspecting Kalamazoo's third oldest home, which has been immaculately maintained for over a century and a half! 
Negotiation: When you buy an existing home, there may be more room for negotiation on the price. This is particularly true if the home has been on the market for a while or needs some updates. A thorough inspection is the best way to determine a plan for making repairs on any potential home. 
Less uncertainty: When building a new home, there can be a lot of uncertainty about the final product, particularly if you're working with a custom builder. With an existing home, even with a thorough inspection, there WILL be some surprises, but likely less than envisioning a home from the ground up.
Easier financing: Financing an existing home can be easier than financing a new home, as lenders may be more comfortable with the value of an established property, but this is not always the case, and you should explore options with a qualified lender to see if financing is a consideration in your home search. 
Overall, the decision to buy an existing home versus building a new one depends on your specific needs, budget, and lifestyle preferences. Does a shiny new home still sound good to you? Next, we'll discuss some upgrades to consider if you do decide to build a custom home.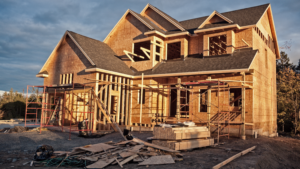 #friendlyexperiencedthorough #homeinspection #luxuryhomeinspections #newconstructioninspections
Serving Southwest Michigan from the Lakeshore to Battle Creek, Allegan, Grand Rapids, and more. Learn more at www.bakerpropertyinspections.com