HOME CLEANING WEEK
Get It Together: The Right Supplies for Cleaning Your Home
It's important that you get together the proper supplies for cleaning your home. The suggestions made in this article are subjective, and you would find that even the most experienced cleaning professionals will ardently disagree about products and methods. That said, you will need to make a small investment in the right materials.
A VACUUM: To effectively clean your home, you need a functional vacuum that can handle the surfaces in your home and maintain suction. Almost every brand of vacuum makes one that can work proficiently, but you must maintain the filter. In more expensive brands, the filter or bag typically stays cleaner longer. Check out Miele and Dyson for reliable options. If you opt for a less expensive vacuum, washing the filter and replacing it as necessary will need to happen more often. Shark is a brand worth considering. Remember, maintaining the vacuum by cleaning off the brush roll and washing seals is also crucial for vacuum longevity and effective cleaning of your home's floors.
A MOP: If you have any sizable area of hard floors in your home, you will need a mop. There are several popular options, such as the "spin-brush" style, wet/dry dust-mop style, or rope-mop style. O'Cedar EasyWring and Bona are some recommended brands.
A DUSTER: For dusting in your home, a Swiffer extendable duster with refills or the reusable equivalent is the best choice. It effectively traps dust and makes the task easier.
RAGS: Having designated towels or rags for cleaning, such as microfiber towels or cut-up cotton t-shirts, is essential for various cleaning tasks.
A TOILET BRUSH: It's crucial to have a toilet brush for maintaining cleanliness in your bathrooms. You can opt for a reusable brush with a holder for convenience, or consider Clorox's disposable toilet brush refill system, which offers practicality and ease of use. By using a solo cup for transport, you can even use one scrubber on multiple toilets.
CLEANING CHEMICALS: While it is possible to clean and disinfect using elbow grease alone, most people prefer using home cleaning supplies to make the project easier and tackle challenging tasks that require more than human strength.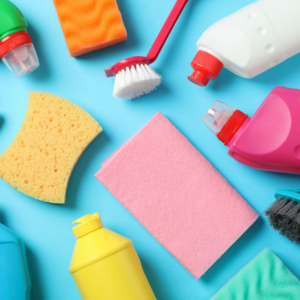 You can make your own home cleaning supplies for general use by combining in a 28oz bottle: 6 drops of your favorite essential oil, 1 tablespoon of Dawn Platinum, and filling the rest with water. This homemade solution can be used on most bathroom surfaces and countertops, except for unfinished wood.
To make a household cleaner that leaves a smooth finish on mirrors, glass, and floors, combine in a 28 oz bottle: 3 drops of your favorite essential oil, 1 teaspoon of Dawn Platinum, 1/8 cup of rubbing alcohol, and fill the rest with water. Remember to only use this cleaner on finished surfaces, as the alcohol can damage unfinished wood and leather.
If your shower accumulates pink bacteria or black mildew, consider treating it with hydrogen peroxide right before you leave the bathroom after a shower. Turn on the fan to ensure proper ventilation. Hydrogen peroxide naturally eliminates enzymatic activity in your shower, making cleaning a cinch.
For tough cleaning projects, a paste cleanser like The Pink Stuff, BioClean, or BarKeeper's Friend can be highly effective. However, exercise caution and avoid using these cleaners on polished metal surfaces since they can be abrasive.
Iron and rust removers are usually unpleasant to use, and we recommend wearing a p99 mask and eye protection when using them. To reduce your reliance on these products, consider installing water filtration and/or water softening systems in your home, which can reduce your use of these products.
Now that you're equipped with knowledge, take this short list to the store, and you'll be ready for our next blog, ROUTINE HOME CLEANING tomorrow. 
Get more information about chemical safety at: https://www.cleaninginstitute.org/understanding-products/about-cleaning-product-ingredients
www.bakerpropertyinspections.com
Paw Paw Cassopolis Stevensville South Haven Battle Creek 
#friendlyexperiencedthorough #homeinspection #homemaintentance